Galeria Olimp to pierwsze i najbardziej znane centrum handlowe w Lublinie. Do Twojej dyspozycji ponad 260 sklepów z modą polską i światową, znane marki i oryginalne butiki –
u nas możesz zaszaleć z zakupami! Ponadto szereg punktów usługowych w jednym miejscu – wygoda i oszczędność czasu dla Ciebie!
Gastronomy and entertainment
Galeria Olimp to nie tylko zakupy – odwiedź strefy gastronomii i rozrywki, spędź miło czas z rodziną i przyjaciółmi!
Nasz food court oferuje smaki z różnych stron świata, a w strefie rozrywki nie można się nudzić!
Wyjątkowe rabaty i promocje specjalnie dla klientów Galerii Olimp! Aktualne oferty w jednym miejscu – sprawdź co dla Ciebie przygotowaliśmy!
U nas zawsze dzieje się coś ciekawego. Bądź na bieżąco, śledź aktualne wydarzenia w Galerii Olimp!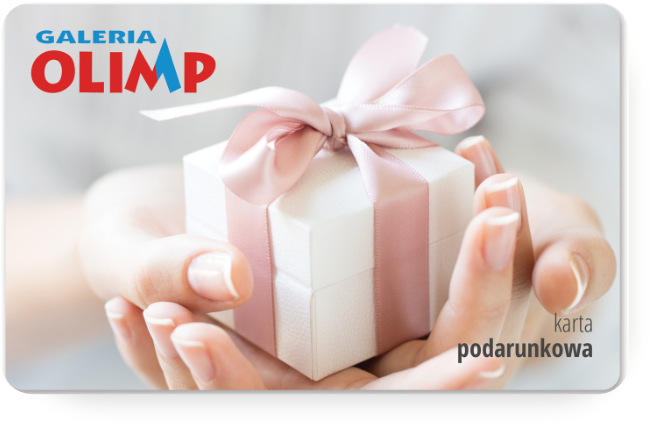 Have you ever had a problem with choice of a gift for your loved one? Have you ever been unsatisfied with a gift which somebody gave you? Forget it! Olimp Gift Card gives you certainty that your present meets expectations.
It is a modern and practical way to buy a gift, which meets expectations of our loved ones. Thanks to this way, a recipient can choose a present according to own needs and preferences.
It is possible to make payments by the Gift Card in shops and service outlets accepting MasterCard payment cards at Galeria Olimp. This gives you the possibility to choose a gift from the centre's wide range! It's the great solution for every occasion: holidays, birthdays, name days, weddings, anniversaries or Valentine's Day. Impress your loved ones by giving them the Olimp Gallery Gift Card!
The Best Gift … For you!
What is Galeria Olimp Gift Card?
Galeria Olimp Gift Card is a great idea for a present that gives the recipient the opportunity to choose! Give it to your loved ones on holidays, birthdays or other family celebrations. It is also a perfect gift for your employees or contractors! Thanks to it, the recipient will be able to make their dream purchase in the selected Galeria Olimp shop. It is an ideal and convenient solution especially during the upcoming holiday season.
How to check balance of Gift Card?
You can check your card's balance:
– on the Galeria Olimp website www.galeriaolimp.com.pl
– on the website www.flex-e-card.pl
– in the HERA HOME lovely porcelain store
– by calling number of the customer service office +48 22 490 6923
– by scanning the QR code on the back of the card by a smartphone
How does Galeria Olimp Gift Card work?
Galeria Olimp Gift Card is a type of MasterCard prepaid electronic payment method that can be securely and conveniently paid in all stores at Galeria Olimp accepting MasterCard payment. The card is one-time top-up, and you can make transactions in many points until the limit available on the card is exhausted or its validity expires (12 months from the date of purchase).
Where can I buy Galeria Olimp Gift Card?
Galeria Olimp Gift Card can be bought in the HERA HOME shop on the first floor of the vis'a'vis MULTIKINO Gallery next to the Quiosque store every day from 10.00-21.00, as well as on the website by clicking HERE and top up any amount from PLN 30 to PLN 4,000 in cash, by card or by bank transfer. By buying a card you only pay the top-up amount. No additional fee is charged. The card is active within 15 minutes of its purchase.